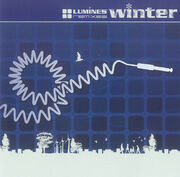 Lumines Remixes Winter
is another album released by
Takayuki Nakamura
, along with two other artists named
Keiichi Sugiyama
and Hueda.
List of songs
Edit
The Wind is Wailing (3:21)
Flower Cards (3:09)
In Late Night (3:50)
Amber Moon (2:56)
No Bird (3:21)
Flavor (3:08)
Lie in Rhodes (3:26)
Pumpkin Head Man (2:33)
New Cold+ (3:34)
Compressive Flake (2:49)
Minimum Vox (3:41)
I Think (3:30)
Nerorange (3:04)
Freezing Point (3:26)
Snow Girl (4:07)
A Piece of Sine Wave (3:03)
Fab Bells (2:48)
Deck the Halls (1:59)
Papa! (3:39)
Discoveries (3:37)
The album can be bought in iTunes for $7.99. Seperate songs can just be bought for $0.99.
Ad blocker interference detected!
Wikia is a free-to-use site that makes money from advertising. We have a modified experience for viewers using ad blockers

Wikia is not accessible if you've made further modifications. Remove the custom ad blocker rule(s) and the page will load as expected.